The Melodramatic Simulacrum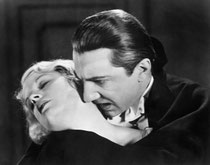 Many horror films, especially early horror films, contain elements of melodrama. For example, this photograph of Bela Lugosi as Dracula is in essence a depiction of a corrupt man preying on an innocent woman. What other melodramatic story elements can you identify in the horror movie genre? 
For those of you who read the Baudrillard, Simulacra and Simulations, what are some of the ways that fans of the horror genre perpetrate "pure simulacrum?" I suggest browsing some "remixed" horror films on Youtube.