Film History II
Welcome to Film History II, a required course for AQB Media Studies Majors.
An important point made in our textbook, Film, Form and Culture by Robert Kolker, is that all films are constructed. Furthermore that if we understand how these constructions work we can better understand why they do (or do not) have such a strong impact on an audience. 
The syllabus and any additional hand-outs will be on-line or available as downloads. If you missed important notes from the whiteboard they are often posted here. 
Part of this course is the weekly blog posting which will usually pertain to the weekly reading assignment. The blog posts are due 24 hours before our weekly class meetings. If a strike or any other problem occurs that prevents class from meeting always check here for a new blog question or assignment.
Get your free scary movie sound effects here!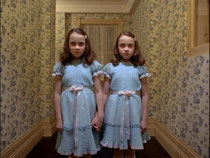 The reading for this week states that The Shining is "a semiotic puzzle." So too is Hitchcock's film Psycho. First of all what does the term "semiotic puzzle" mean? Second, how does Hitchcock use this idea? Hint: the reading from last week mentions his ability to give "attribution of symbolic power to inanimate objects."
The still frame from the original film and the reproduction on the right are an example of what process?